LISTENING TO THE MUSIC THE MACHINES MAKE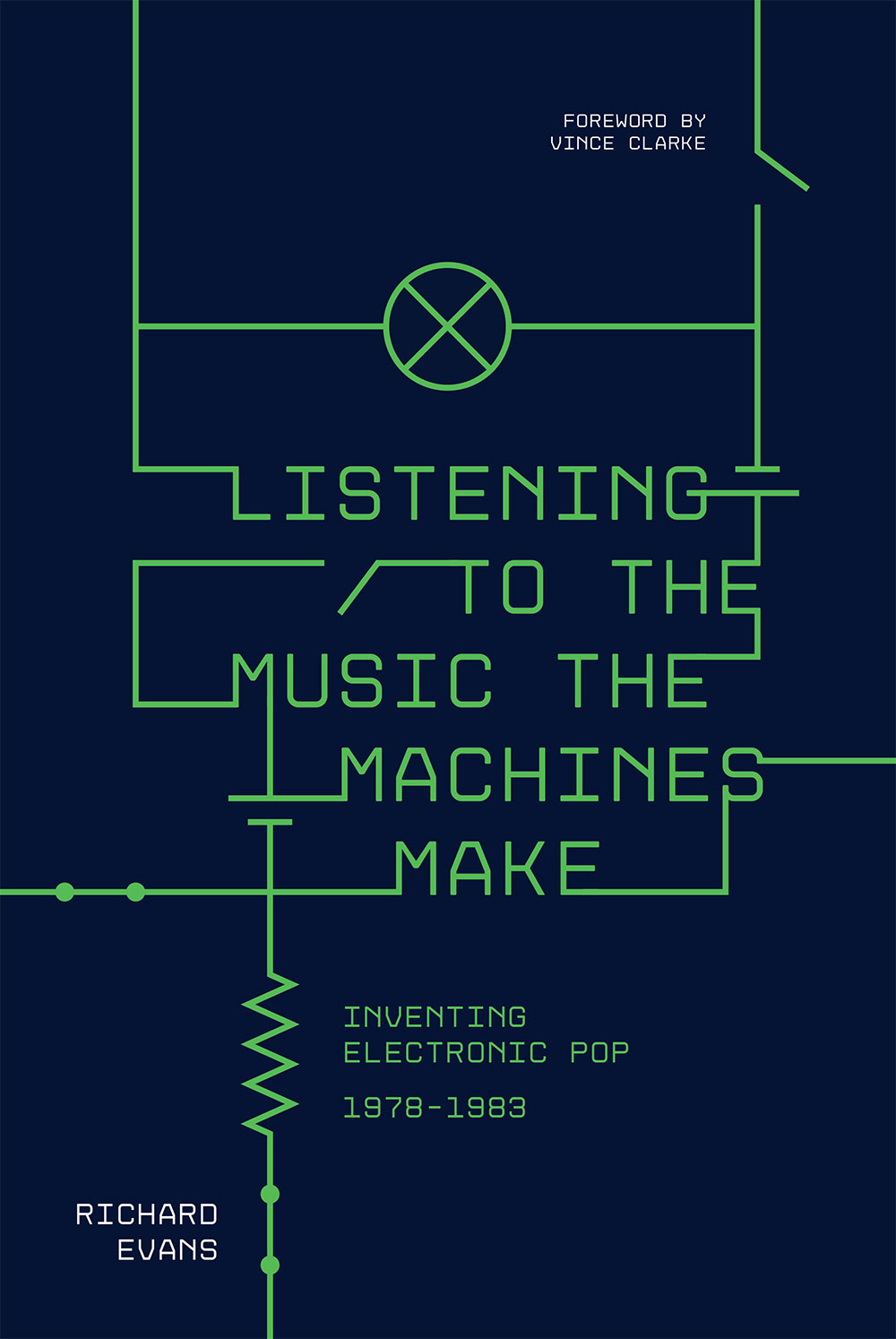 Setting out to chart a unique chapter in the history of popular music, Listening To The Music The Machines Make tells the story of a single generation of post-punk musicians, mavericks, visionaries and opportunists tinkering with primitive synthesisers in bedrooms, bedsits and basements around Britain, who assembled a potent cocktail of ideas and influences, took them apart, mixed them up, and reassembled them in entirely new ways to create a genuine golden age of British pop, and along the way creating some of the most enduring, iconic and influential records in pop history.
Krautrock provided a new sonic landscape, a bright post-war sound that echoed the technological advancements and ambitions of the day; glam rock provided colour, androgyny, glitter, glamour and a new type of pop star; disco supplied a spirit of hedonism and celebration, a glossy dance-floor sensibility, and an emerging remix and production culture; and punk rock enabled everything by rejecting previously held beliefs about talent and virtuosity, and providing a DIY attitude, a rebellious backbone and an embryonic infrastructure.
Drawing from years of extensive research, as well as from conversations with many of the movement's key movers and shakers, Listening To The Music The Machines Make sets out to examine the multitude of influences that led to the synthpop revolution that spanned 1978 to 1983; tell the definitive story of a true golden age of British pop through the careers, releases and stories of the movement's pioneers, mavericks and superstars; and explores the era's lasting musical impact and enduring influence, including it's role in the development of hip-hop, house, techno and beyond.
BUY THE BOOK
Listening To The Music The Machines Make was is now available to purchase from all good online and offline bookshops everywhere in the world.

There are currently no plans for translations of the book to be published in languages other than English, but if you are a publisher and you are interested in talking to us about translation rights then please get in touch using the contact form further down the page.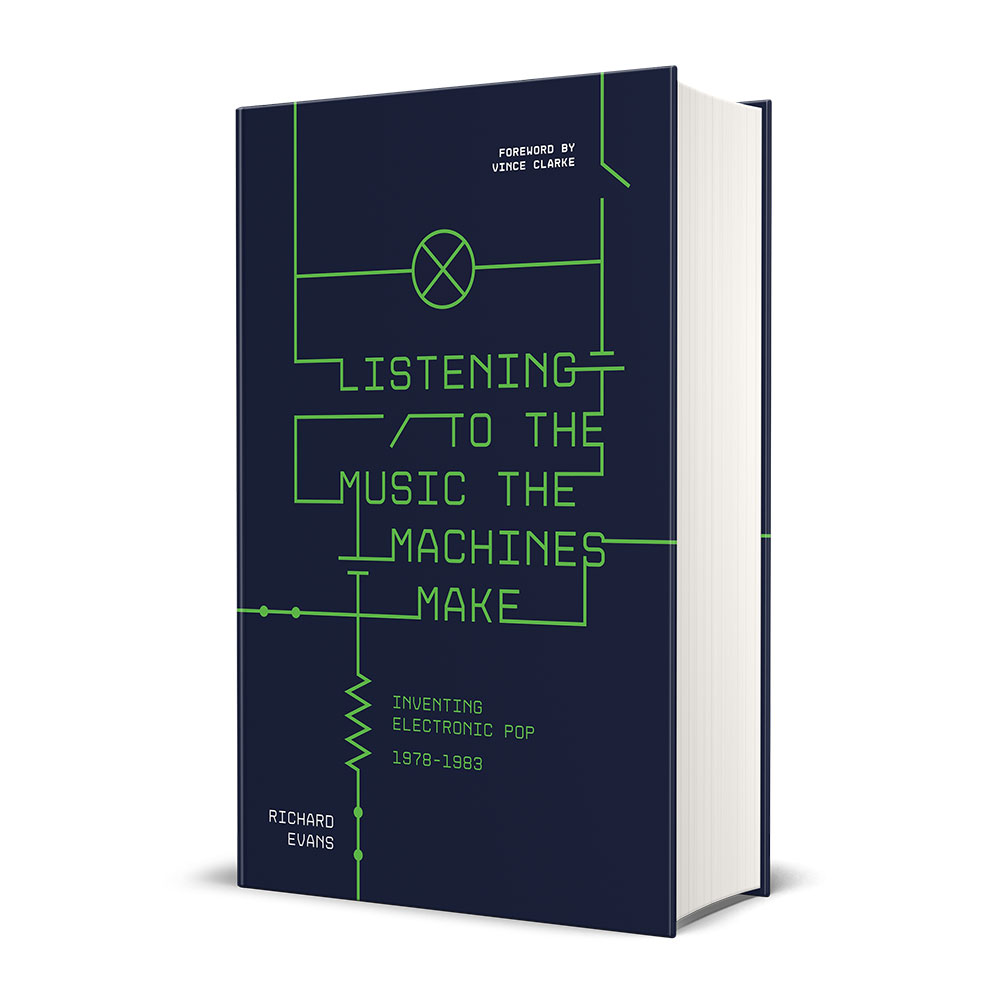 SIGNED COPIES
You can buy signed copies of Listening To The Music The Machines Make from Lexer Music while stocks last.

REVIEWS, INTERVIEWS & EVENTS
BOOK REVIEWS

"Evans' meticulous research is synthesised into a lively and informative narrative that finally grants the genre the respect that it deserves." – A BOOK OF THE YEAR 2022 Classic Pop Magazine
"What a book." – A BOOK OF THE YEAR 2022 Blitzed Magazine
"It's a must-read." – Electronic Sound
"Meticulously researched … this book is essential." – SPIN
"A scroll of chronological, interwoven but often disparate stories featuring every purveyor of synthpop you can possibly think of … a must-read." – Record Collector
"A comprehensive and highly readable overview of a once-future … Listening To The Music The Machines Make is well-written: Evans has a warm, savvy approach, long on detail, with good humour." – MOJO
""Listening to the Music the Machines make could be a sequel to Jon Savage's ultimate U.K. punk bible England's Dreaming … the defining tome for electronic pop"" – The Big Takeover Magazine (USA)
"Cleverly combines impressive research with an effortless and enjoyable readability, and is surely destined to become the definitive final word on this subject." – The Afterword
"I discovered many new delights, even though I lived through this musical era and thought I had heard most of its influential tracks. I was wrong, and I'm glad to have had my horizons expanded. Listening to the Music the Machines Make is commendable as an essential reference work and a thoughtful and affectionate in-depth examination of a vital musical genre." – Popmatters
"This book is a thorough, well-executed delight for fans of the electronic music genre and puts together all the pieces of information which you possibly already knew in the correct sequence, with myths dissolved and facts confirmed… a highly researched report of the music that machines make." – We Are Cult
"'Listening To The Music The Machines Make' would have been a great read if it had only listed the achievements of the inventors and creators, but Evans has combined his authoritative reseach with his genuine passion for the records themselves. You will find yourself going back to listen and re-evaluate those records too." – Outside Left
"It's the way that Evans weaves and knits these familiar names into such a rich and enormous tapestry that makes the book stand out. It is also done with humour and an affable tone that adds a human touch to the academic … Plus, it's so bloody lovely to immerse oneself into this utterly fascinating and key period in the evolution of electronic music once again and realise how important it is." – Louder Than War
"I love a ridiculously researched and detailed musical history, and Richard Evans' epic tome on the early years of electronic pop in the UK certainly ticks that box … This aspect of British pop history has long been under-documented, so Evans' labour of love is both timely and welcome." – Innate
"A much-needed synthesis of the stories told by the charts and music press in the early days of UK electronic pop … an excellent review of the dynamics at work in the culture of the time." – Cold War Night Life
PAST EVENTS

NOVEMBER 2022
6 – Listening To The Music The Machines Make – Dedicated Launch Event with Andy Bell (Erasure) and Martyn Ware (The Human League, BEF, Heaven 17 etc) – Queen's Gate House, London [see pictures from this event here]
13 – Louder Than Words Festival with Martyn Ware (The Human League, BEF, Heaven 17 etc) and Professor Martin James, Manchester
APRIL 2023
23 – Bournemouth Writing Festival, Bournemouth, Dorset
JUNE 2023
7 – Sound Affects Night with Kevin Foakes (DJ Food) and Fiona Miller, Brighton
15 – Walthamstow Rock & Roll Book Club – In Conversation with Paul A Taylor (Mute Records), Waterstones Walthamstow, London
FUTURE EVENTS

Please check back for news of further events, consider signing-up to the email newsletter below, and follow us on Facebook and Instagram for information as we have it.
Richard Evans is available for events, interviews and publicity. Please use the contact form below to get in touch.
INTERVIEWS
GET IN TOUCH